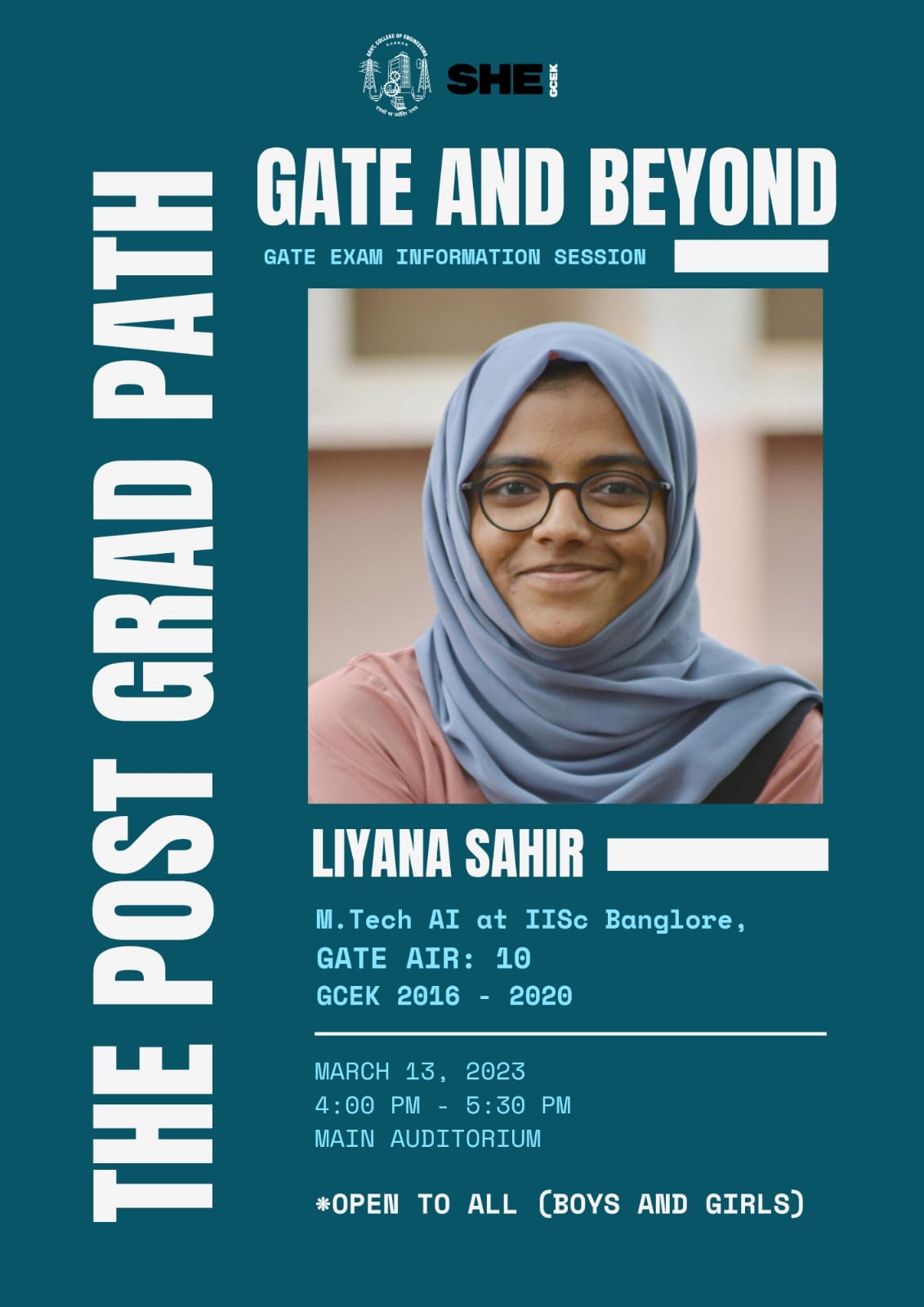 GATE AND BEYOND
On 13th March 2023, a GATE EXAM information session was conducted by SHE GCEK for the students from 4:00 - 5:30 PM. The purpose of the programme was to make them aware of GATE and its opportunities. The event was open for all students of GCEK. The session was handled by Ms. Liyana Sahir, GCEK 2016-20, MTech AI, IISC Bangalore, GATE AIR 10. She gave a clear idea on the importance of the GATE exam. She also highlighted the benefits of studying in IISc, their programs and courses and discussed about the supernumerary quota for women and the various women-only fellowships. There were around 70 participants for the event. It was an interactive and informative session where the students were able to clear all their queries regarding GATE and also to learn about the possibilities of doing post graduation. The event was a great success.
DEV WEB 2.0
A 10 days Web Development Bootcamp was organised by SHE exclusively for 2k21 batch girls of GCEK. This bootcamp provided peer to peer learning experience for the students to learn front-end web development with proper mentoring. Out of the applicants, 18 girls were selected. Learning materials based on HTML,CSS and JS were provided as video tutorials made by our own team. Live doubt clearance and interactive sessions with industrial experts were also conducted. They were given tasks with deadlines in which submission has to be done on GitHub so that they get familiarised with GitHub also. The bootcamp was successful in establishing a forum where the girls could actively ask their doubts with their peers and have an active exchange of ideas.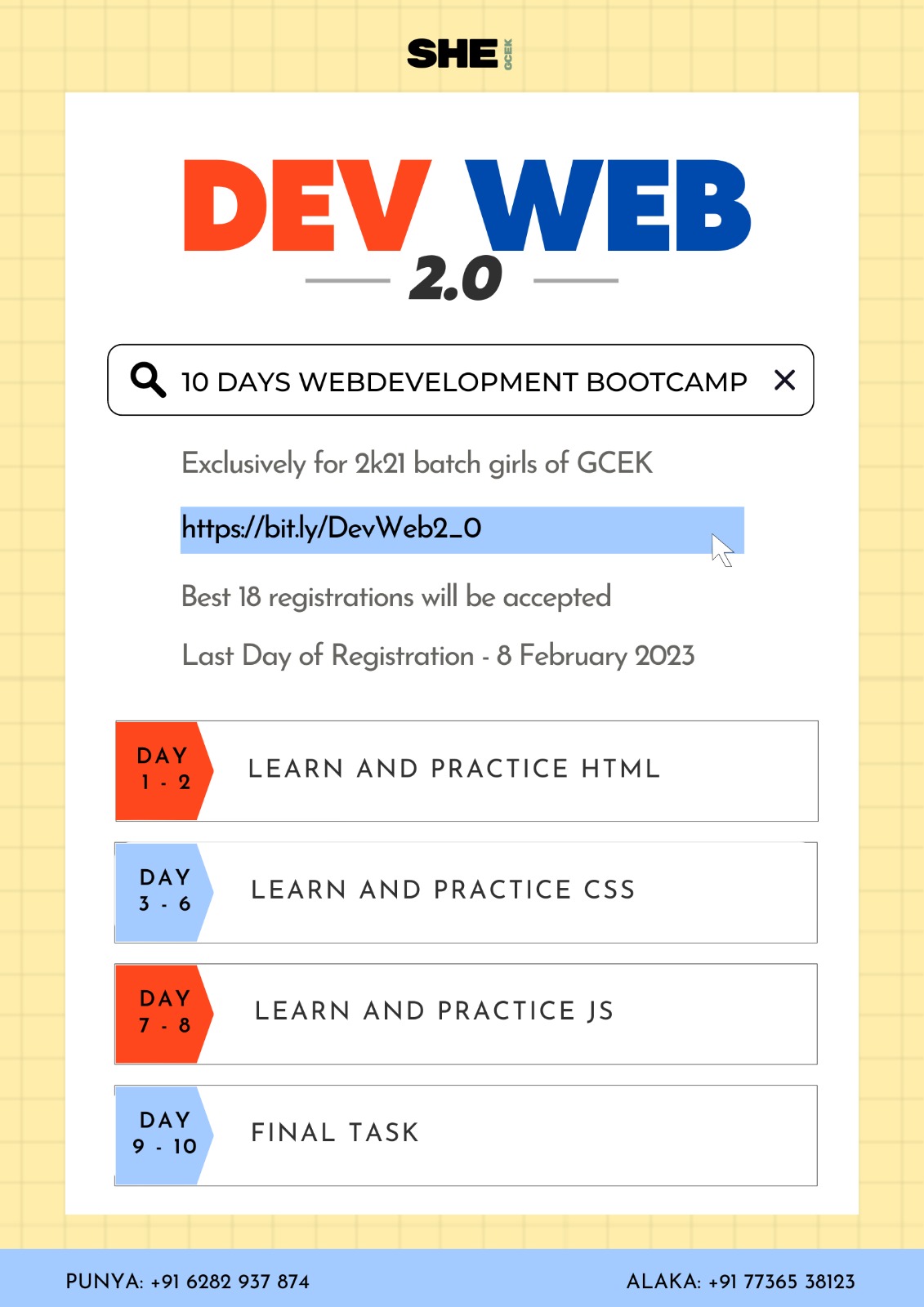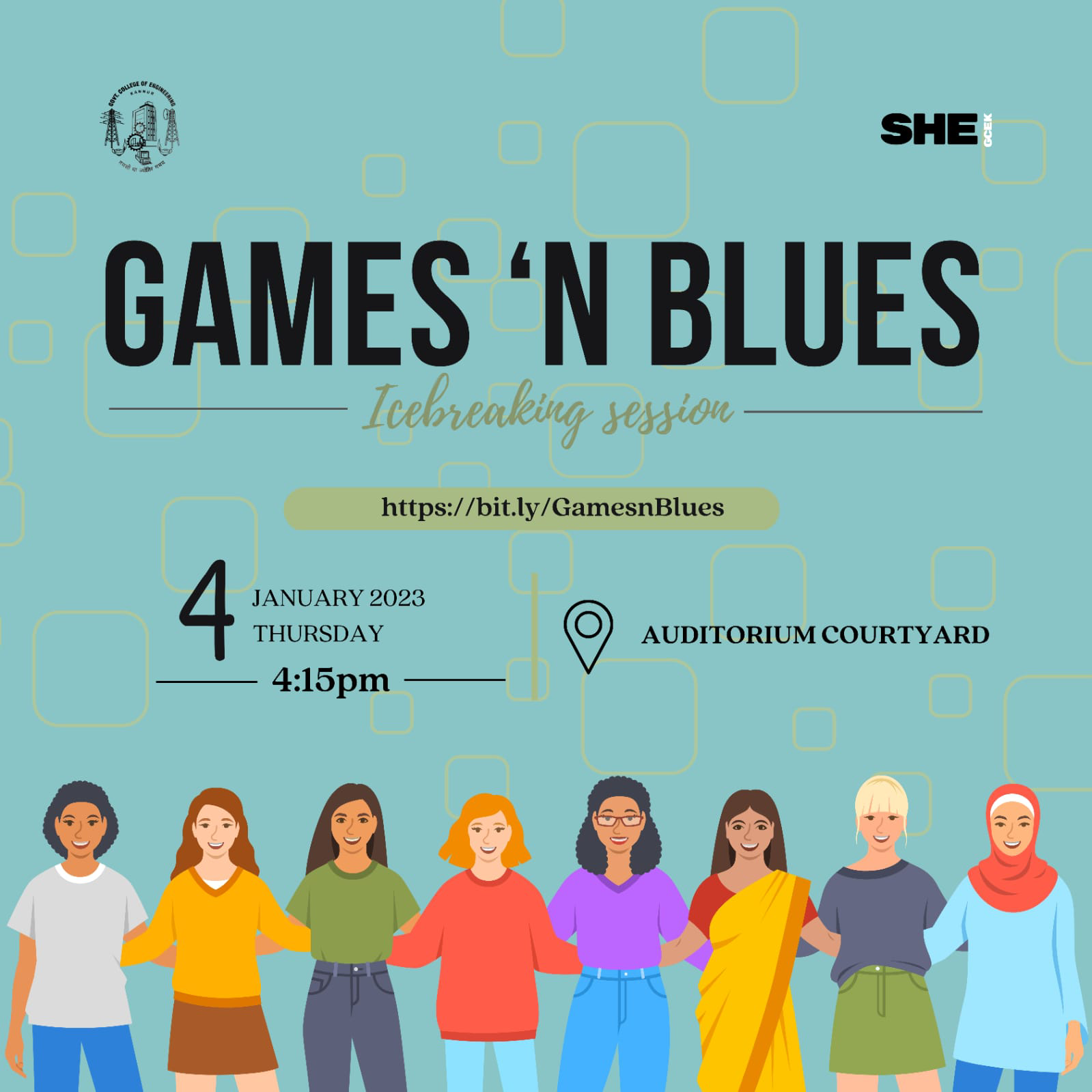 GAMES 'N BLUES
An icebreaking/chit-chat session titled "GAMES'N BLUES'' was conducted by SHE GCEK on 4th January 2023 at 4:15 PM.
It was mainly focused on interacting with the 1st year students. The event started with the self introductions by the students. Two games were also conducted.
Along with these a JAM competition was also conducted to improve their verbal skills. The program overall helped the students to interact with each other and also to know more about SHE.
Hear From Our Members
"I am a girl who likes to study new things and do something other than academics but didn't know where to start and which course to choose. I was really confused. And then SHE started an online course learning program and we were divided into different groups with our interest in courses. And we opted for a particular course with proper certification and started studying as a group under the proper guidelines of a mentor which helped me and my friends a lot to study. Also when we study as a group we will be more focused and interested. Now we completed two courses under this program. I am so happy that I am a part of this program."
"I am an S3 Civil student. From my 1st semester I had an interest to study programming and we had a paper on C programming in our 2nd semester. Since I took Biology science for my 12th I actually did not have any idea about programming and I couldn't understand anything. To be honest even after studying a paper for the whole semester I didn't even get a base. That's why I joined this build the basics group of SHE Coders. This was completely helpful and the method our mentors use for helping us in building a base in C programming is really useful and I am sure that I have improved."
"Lead the leaders was a two day residential camp organised by SHE, GCEK. It was such an amazing programme in which the participants got a chance to interact with inspiring personalities. There were many sessions which aimed at inculcating different values in the participants. These sessions helped us to acquire knowledge and understand the value of time and team work. The talk series were really inspiring in which the speakers shared their experiences. 'Lead the leaders' helped us a lot to improve our leadership qualities and realise our innate abilities. We look forward to such opportunities."
"It was a wonderful experience being a part of this peer learning conducted under SHE. It was well structured and organized. As it had daily deadlines, I didn't stop it halfway, and was able to keep the energy throughout. And I liked my team very much, so it was amazing learning with them, clearing doubts with them."
"It was my first online course. A wonderful beginning in a group of 16 members and Sudhakar Sir as our mentor. Sir was perfectly guiding us from the beginning till end. I was learning how to learn throughout this journey. I felt very satisfied while receiving my first online learning certificate"
"I was a Biology Science student when I was in plus two. So coding was something very odd for me. But 'SHE Coders' helped me a lot to improve my coding skills. There are weekly coding tasks that are given to us to improve our problem-solving capability. Many girls like me have improved their coding skills with the help of 'SHE Coders'."
"As the 'lockdown' term began to take its root and started showing off its shady colors, SHE was an ultimate stand to heal them. Lockdown diaries always included the lockdown talk series initiated by the SHE, and I'm really proud to be a part of it as a listener and as an interrupter. Various talks on health, academics, career, higher studies etc., were really inspiring. SHE, apart from a name, soulfully captivated its techie women members, providing a tranquil platform."
"Lead the Leaders was such a beautifully and strategically planned one. The most striking part was that even silly games we played had a purpose to serve/ a message to understand. All the sessions were very useful. The sessions focused well on every aspect of leadership, from the importance of mental well-being to chasing dreams. They all gave me a lot of takeaways. I really understood that the cornerstone of leadership is not all about being extroverted."
" It is SHE which gave me an opportunity to look in to my self. After doing hundreds of things during graduation only some of the events will strike first when we look back in to the memories.SHE camp was one among them. I am sure that SHE will be a right platform for every girls who are seeking fruitful things to do during their college life "
"Working with the SHE team is always memorable. Beyond the good memories I must say that SHE made me realise the importance of self empowerment and a look through of myself. Sure that I will keep the lessons I learned with SHE throughout my life. Hope SHE will keep passing this strength to the upcoming batches."
"Usually, I have this tendency to leave online courses halfway due to lack of motivation. In the case of Mission Build Website, it was different. Learning something along with your friends and seeing them submit their work, encourages you to do the same. The boot camp was organised really well by Liyana and by the end of it, I was confident enough to develop the front end of my own website"
"There is a wide chasm between our education system and the workplace. The SHE talk series was an attempt to bridge this gap. It was an opportunity for the students to get a glimpse of the life that awaits us after college. It explored a wide array of topics including education, career and health. It gave our students a chance to connect to the alumni and it has opened new avenues and exciting opportunities."