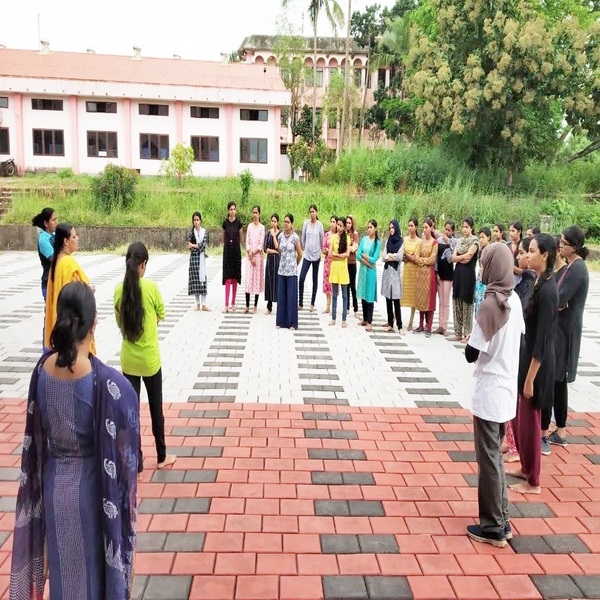 ICEBREAKING AND HANDHOLDING SESSION
A kickstart event, the agenda of which was to make the girls understand the purpose of their being in SHE. This is where the girls got to know each other and of their abilities and skills.
LEAD THE LEADERS
A 2 -day residential camp organized by SHE under the HR Cell of GCEK on the 11th and 12th of October 2019 with the sole objective of equipping women leaders of tomorrow to be personally and professionally healthy in all aspects. The program was organized for the benefit of 30 selected girl students of the SHE group. We had a good deal of talk sessions by many renowned professionals of which some were centered around the importance of inner well-being, physical health as well as maintaining good emotional intelligence while few were related to career opportunities and life as a research scientist and entrepreneur. All the sessions handled by eminent personalities from different fields of life were highly motivating and inspiring ones and all of them were well received by the audience.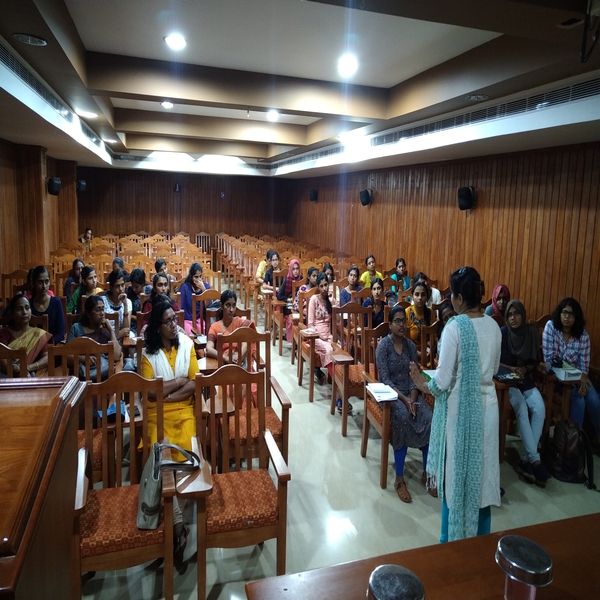 SHE WEB DEVELOPMENT BOOTCAMP
"Mission: Build Website" was an online website development bootcamp held for the girls of Government Engineering College, Kannur between the 19th and 27th of March 2020. The objective of the boot-camp was to streamline all those who were interested in learning how to build a website through engaging in practical tasks everyday along with traditional learning . Students felt comfortable to ask doubts and engage in discussions with their peers which created a lively learning environment. At the end of the bootcamp, 23 students successfully created a website based on their new-found knowledge on HTML and CSS and hosted it on GitHub.
TAKE DE BAIT
Take De Bait was an inter-collegiate online debate competition held for female engineering students on 23rd August 2020. The event saw more than 20 registrations, including students from outside Kerala. The organizers of the event were of the view that this debate competition mainly targeted female engineering students so that they make sure their voices are heard everywhere. A JAM session was held and 10 participants were selected for the debate which took place in 3 parts. The topic "Is the pandemic work culture detrimental to women in tech" was a right fit considering its relevance to the current scenario. The debate was judged by Aisha Nazia, who is the founder of Start Change.Today, Growth Hacker and a blogger. Though we had many constraints in hosting this debate competition online, we emerged successful.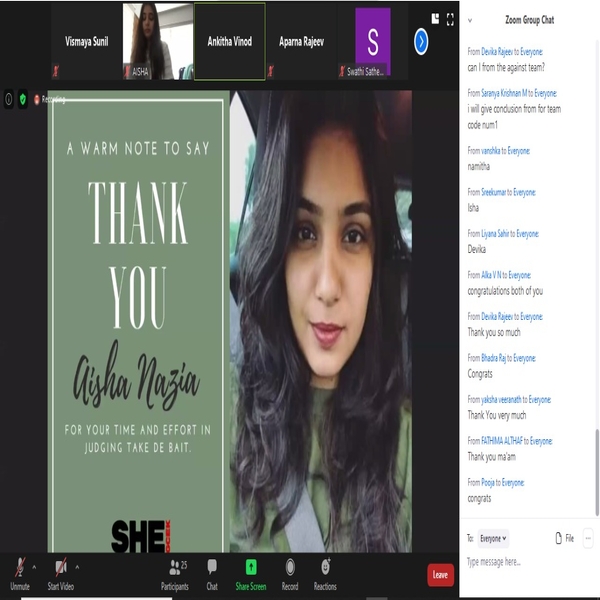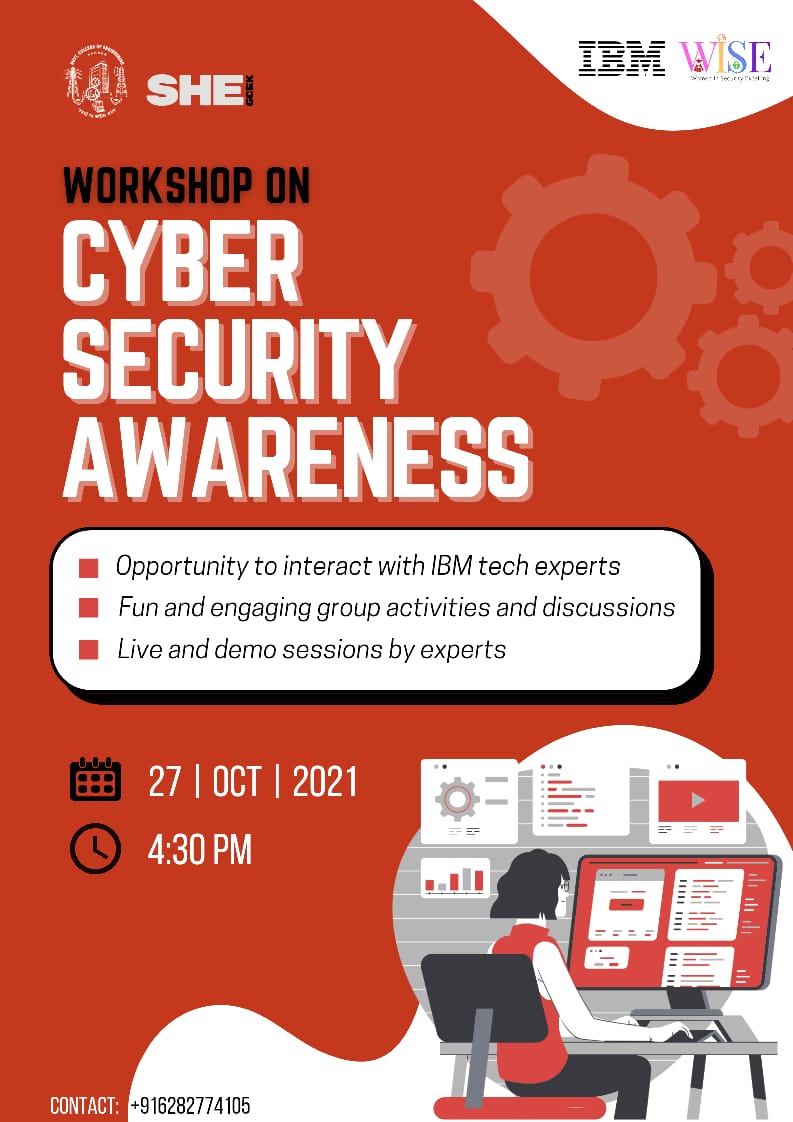 CYBER SECURITY AWARENESS
SHE GCEK coordinated the Cybersecurity Awareness Session in collaboration with WISE (Women in Security Excelling) IBM. The session gave the students the opportunity to interact with IBM tech experts, it also included fun and engaging group activities and discussions live and demo sessions by experts
INISHEATE
SHE GCEK organized an orientation program, iniSHEate to the vibrant girls of the 2021 batch. IniSHEate commenced with a formal introduction from our principal. Dr. Vandana Sreedharan, SHE coordinator delivered a very insightful talk on SHE and also welcomed all the freshers to the SHE community. We conducted fun games for the girls to break the ice and also our alumni shared their wonderful experience with SHE to the whole crowd.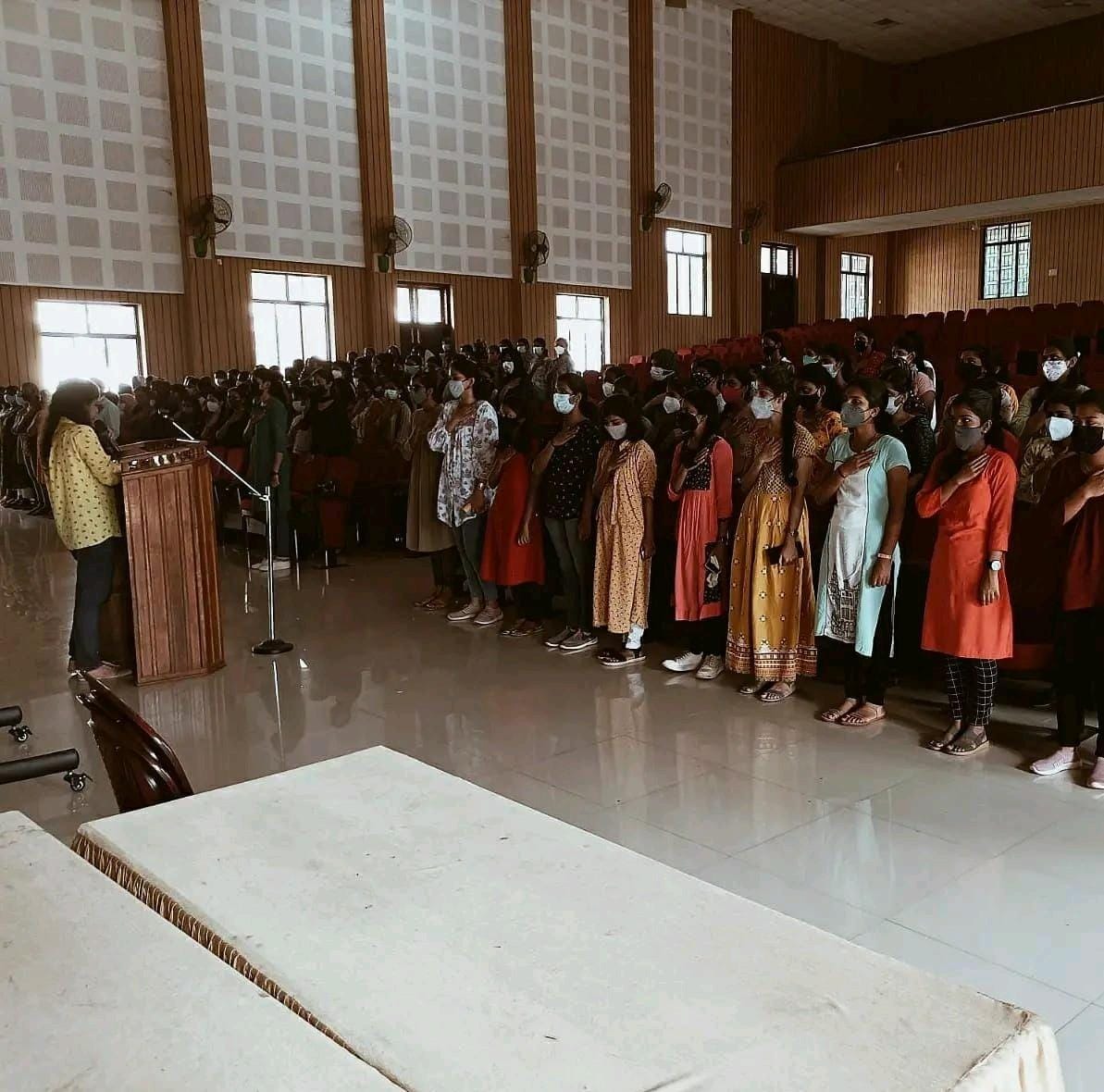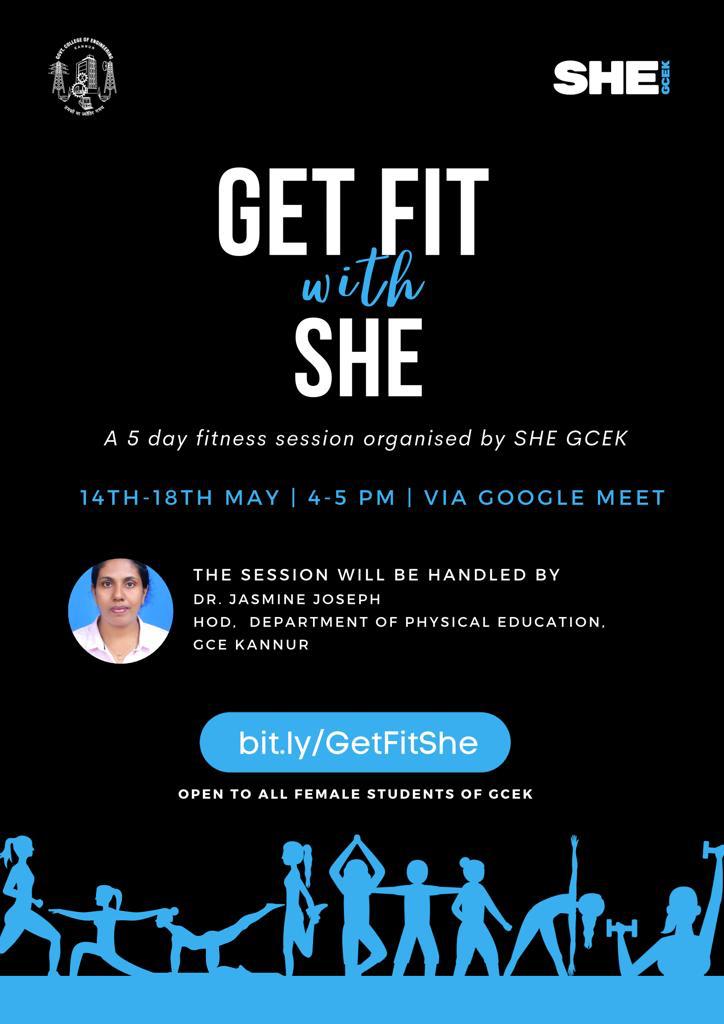 GET FIT WITH SHE
A 5-day fitness session organized by SHE GCEK under the guidance of Dr. Jasmine Joseph, HOD. of Physical Education Department GCEK.
Hear From Our Members
"I am a girl who likes to study new things and do something other than academics but didn't know where to start and which course to choose. I was really confused. And then SHE started an online course learning program and we were divided into different groups with our interest in courses. And we opted for a particular course with proper certification and started studying as a group under the proper guidelines of a mentor which helped me and my friends a lot to study. Also when we study as a group we will be more focused and interested. Now we completed two courses under this program. I am so happy that I am a part of this program."
"I am an S3 Civil student. From my 1st semester I had an interest to study programming and we had a paper on C programming in our 2nd semester. Since I took Biology science for my 12th I actually did not have any idea about programming and I couldn't understand anything. To be honest even after studying a paper for the whole semester I didn't even get a base. That's why I joined this build the basics group of SHE Coders. This was completely helpful and the method our mentors use for helping us in building a base in C programming is really useful and I am sure that I have improved."
"Lead the leaders was a two day residential camp organised by SHE, GCEK. It was such an amazing programme in which the participants got a chance to interact with inspiring personalities. There were many sessions which aimed at inculcating different values in the participants. These sessions helped us to acquire knowledge and understand the value of time and team work. The talk series were really inspiring in which the speakers shared their experiences. 'Lead the leaders' helped us a lot to improve our leadership qualities and realise our innate abilities. We look forward to such opportunities."
"It was a wonderful experience being a part of this peer learning conducted under SHE. It was well structured and organized. As it had daily deadlines, I didn't stop it halfway, and was able to keep the energy throughout. And I liked my team very much, so it was amazing learning with them, clearing doubts with them."
"It was my first online course. A wonderful beginning in a group of 16 members and Sudhakar Sir as our mentor. Sir was perfectly guiding us from the beginning till end. I was learning how to learn throughout this journey. I felt very satisfied while receiving my first online learning certificate"
"I was a Biology Science student when I was in plus two. So coding was something very odd for me. But 'SHE Coders' helped me a lot to improve my coding skills. There are weekly coding tasks that are given to us to improve our problem-solving capability. Many girls like me have improved their coding skills with the help of 'SHE Coders'."
"As the 'lockdown' term began to take its root and started showing off its shady colors, SHE was an ultimate stand to heal them. Lockdown diaries always included the lockdown talk series initiated by the SHE, and I'm really proud to be a part of it as a listener and as an interrupter. Various talks on health, academics, career, higher studies etc., were really inspiring. SHE, apart from a name, soulfully captivated its techie women members, providing a tranquil platform."
"Lead the Leaders was such a beautifully and strategically planned one. The most striking part was that even silly games we played had a purpose to serve/ a message to understand. All the sessions were very useful. The sessions focused well on every aspect of leadership, from the importance of mental well-being to chasing dreams. They all gave me a lot of takeaways. I really understood that the cornerstone of leadership is not all about being extroverted."
" It is SHE which gave me an opportunity to look in to my self. After doing hundreds of things during graduation only some of the events will strike first when we look back in to the memories.SHE camp was one among them. I am sure that SHE will be a right platform for every girls who are seeking fruitful things to do during their college life "
"Working with the SHE team is always memorable. Beyond the good memories I must say that SHE made me realise the importance of self empowerment and a look through of myself. Sure that I will keep the lessons I learned with SHE throughout my life. Hope SHE will keep passing this strength to the upcoming batches."
"Usually, I have this tendency to leave online courses halfway due to lack of motivation. In the case of Mission Build Website, it was different. Learning something along with your friends and seeing them submit their work, encourages you to do the same. The boot camp was organised really well by Liyana and by the end of it, I was confident enough to develop the front end of my own website"
"There is a wide chasm between our education system and the workplace. The SHE talk series was an attempt to bridge this gap. It was an opportunity for the students to get a glimpse of the life that awaits us after college. It explored a wide array of topics including education, career and health. It gave our students a chance to connect to the alumni and it has opened new avenues and exciting opportunities."